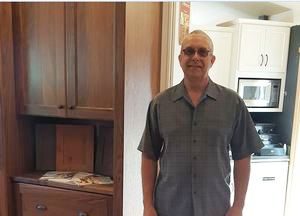 Jay Hecker joined the Animas Kitchen and Bath team in December of 2018. Previously he was a design/build general contractor and cabinet maker and had conducted business with Animas Kitchen & Bath through the years. When Jay felt the need for a different career focus, he considered specializing in kitchen and bath design. Having design experience with AutoCAD and over 35 years in the building industry, it seemed like a natural fit.
With these years of experience he has a good sense for what works well in the two most important rooms in a house; the heart of the home, the kitchen, and the room for grooming and relaxation, the bathroom. Whether it is a young couple with measurements scratched on a sticky note or a contractor with a specific set of plans, serves them well and supplies them with an excellent design.
Knowing that his clients are engaged in one of the more expensive purchases they will make in their lives, He works hard to keep them informed and comfortable with their decisions. Jay enjoys cooking and closely considers the kitchen working space and how it can be made both attractive and efficient. 
He is a good communicator and knows that the job doesn't end when the sale is made. Having been so long in the building industry, he knows that follow up service is very important for long term customer satisfaction. 
Jay was born and raised in New England, but now has deep roots here in Southwest Colorado. He is married and has two wonderful daughters who live here in Durango. His family is involved in the community and enjoy volunteering with various organizations. He is grateful to live in such a beautiful corner of the world, to get out and enjoying all it has to offer.